Jonathan LeVine Projects Announced as North Jersey Indie Rock Fest Sponsor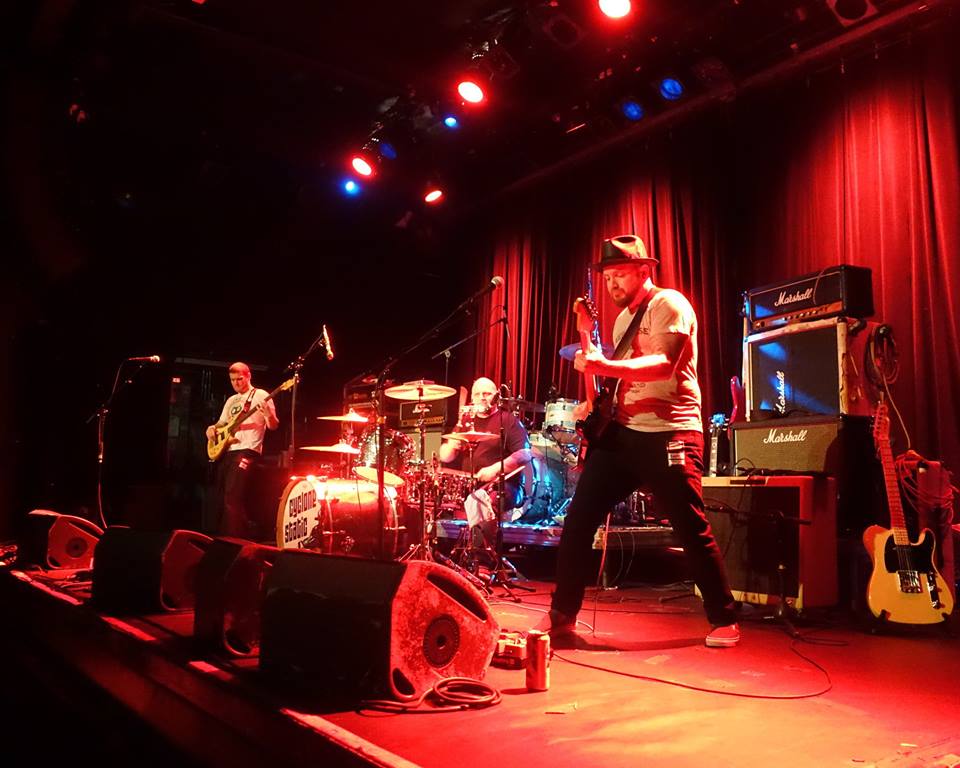 N.J. Racket is beyond honored to announce that Jersey City's own Jonathan LeVine Projects will be a sponsor of Mint 400 Records and Sniffling Indie Kids' Second Annual North Jersey Indie Rock Festival. Owner and proprietor Jonathan LeVine is known internationally as one of the pioneers of the street art movement in the early 2000s, and his gallery is considered to be one of the premiere galleries in the world for transgressive and subversive pop surrealism.
LeVine has been running his own gallery for sixteen years, having recently relocated to Jersey City from Manhattan's Chelsea neighborhood, where he had been since 2005 following a move from Philadelphia. Jonathan LeVine Projects is most well-known for bringing street and underground artists to the forefront of art culture and into the focus of elite collectors from around the world. Perhaps most notably was Shepard Fairey, creator of "Andre the Giant has a Posse" and President Obama's 2008 "Hope" campaign poster, whom LeVine featured in the 2007 exhibition E Pluribus Venom. Yet, almost in spite of his successes, LeVine maintains his "blue-collar," Jersey punk identity.
LeVine's passion for the local punk scene is effervescent. Growing up in Trenton, he made a home of the iconic '80s nightclub City Gardens, which served as a suburban waystation between Manhattan and Philly for all the up-and-coming bands of the time, as well as a proving ground for local talent. When we spoke, LeVine gave me a veritable history lesson in all things punk rock, recalling every band, every label, every promoter that made up the scene that he loved and would shape his life. In his late twenties, LeVine played drums in a band he started with James Salerno called Drywater. The band would gig throughout New Jersey and New York when VFW shows were becoming a big thing. It was at these types of underground shows that LeVine would become friends with Neil Sabatino, then of Stick Figure Suicide.
In addition to actively performing, LeVine also started hosting art shows at local punk bars, which began when he approached then Maxwell's owner Steve Fallon about hosting a single show and instead, Fallon allowed him to do all the art shows for a year. LeVine said of this period of his career, "I was learning. I made lots of mistakes and lost lots of money. I barely survived, but that's what I did, and I learned from that." LeVine would parlay the opportunity at Maxwell's into a four-year residency at CBGB's gallery, owned by fellow New Jersey punk legend Hilly Kristal.
Eventually, however, LeVine would have to walk away from these projects. "I was thirty years old and I was living in downtown Jersey City, and I was working three part-time jobs, I was playing in a band, I was managing my band, I was curating art shows out of bars…I worked in real estate, I worked for the Jersey City as a visual arts coordinator, and I could see ahead that people that were ten to twenty years older than me were stuck in the same thing were they were doing – all the grassroots, D.I.Y. stuff, living in a shitty loft – and I never wanted that for myself. I never wanted to be a poor starving artist, but I was." LeVine moved back to Trenton where he began to reevaluate and refocus himself. "It was hard for me because I had to give up my rock and roll fantasy."
This time was a turning point in LeVine's life, as he would open his first gallery in New Hope, Pennsylvania in 2001; and while he had to let go of his rock and roll fantasy, it was his admiration and appreciation for the underground art style that truly set him and his gallery apart from the rest. To this day, LeVine credits his punk roots for instilling a work ethic and sense of perseverance in him that was crucial for his success.
Now, after running his gallery for a total of sixteen years in four different locations, LeVine has been able to, at least partially, turn his attention back toward music. LeVine says that he hardly played music at all for twelve years, but since moving to a house in New Jersey, he now finds himself playing drums again at least five days a week. LeVine has also since reconnected with former bandmate James Salerno, and the two formed a new band called Cyclone Static.
"Playing drums regularly is a way to meditate," LeVine says. "There's no pressure. I feel like I've had enough success in my life that I feel satisfied, whereas when I was younger I took everything more seriously and I would beat myself up. But now I'm pushing fifty and playing in this band. It's just kind of fucking hilarious to me. It's just been fun. It's been really fuckin' fun."
Still, it's not in LeVine's nature to half-ass anything he does. Cyclone Static began recording demos and, following the 2016 inaugural North Jersey Indie Rock Festival, LeVine reconnected with Mint 400 owner Neil Sabatino, who signed the band to his label. In that time, Cyclone Static has been very active, opening for such notable bands as Piebald, Local H, Red Aunts, The Vibrators, and Scream. The band is currently working on recording an album, of which LeVine says he "dreams big, but is realistic" and also is "excited to see what Neil and I can accomplish together."
Speaking as the other sponsor of the Second Annual North Jersey Indie Rock Festival, there is nobody better to sponsor this event than Jonathan LeVine. He has been active in this community for thirty years, watching trends, people, places come and go, and he has reached a level of success that many would think, coming from a working-class Trenton suburb, is unobtainable. But LeVine stands now as an example of the great achievements that can be borne from this community with enough of a work ethic, enough perseverance, and a willingness to never quit on your dreams.
Thank you, Jonathan, for your support, and best of luck to you on all your future projects.
Originally featured on NJ Racket