Barr—an artist and graphic novelist (D.C. Comics' Brooklyn Dreams) who was part of the animation team that created Ren & Stimpy—imagines this parallel narrative through his otherworldly art. With settings that range from fringe urban landscapes to outer space, the post-apocalyptic imagery gives life to colorful characters, typically women, through facial expressions and body language that suggest strong emotions. His most recent exhibit, Invisible World at Jonathan LeVine Gallery in New York City, continues this narrative with characters that appear emotionally frayed or troubled, from seemingly lonely female astronauts to individuals captured hearing distressing news on rotary telephones.
Barr spoke with PRØHBTD about the dramatic worlds that exist within his gorgeous artistic narratives.
The setting for many of your pieces is a futuristic or alternative world that seems to imagine darker, bleaker times. Before you start on a series, do you first develop an overall narrative and flesh out the particulars of the world they inhabit?
To develop my past few shows, I had been collecting obscure reference. That entailed viewing of films and old television, which I do anyway while working in the studio. In doing this, it allows me to skip posing models, messing with lights and props, etc. I want to work from "the real thing." Since I've lived it and know the styling by heart, it's easy to create a world where all things co-exist, where future meets the past and characters parallel our own world. It is a darker world of anguish and tragedy, sorrow and loneliness. Something anyone can relate to, and it makes things more interesting for me, though there are many things you can read into the narrative. I find people find all kinds of stories in my work. Premeditated or not. That's why it's important to keep the "stories" open-ended.
If the piece involves a human character, you predominately paint females. What about the female physique and symbolism appeal in terms of constructing a visual narrative?
I like to work in archetypes. I also like creating iconic impressions of a private word. The female form is more striking and iconic to me, and I love exaggeration, [e.g.,] hair, makeup ). Take hair, for instance. It's a great framing device, long or short, [and] it can tell a story. It can create movement and enhance the energy of a piece.
In the alternative universes that you create, are there only women?
There are men. Just not as many. I believe there are two in the Invisible World show out of 15 paintings. It all depends on what images I find and when. When you have a great model to work from, you simply have to go for it, even if it means women outnumber the men. I could do a show of all men on phones or in conversation, but I don't think it would be a successful. A mix is probably better. But women are more exciting.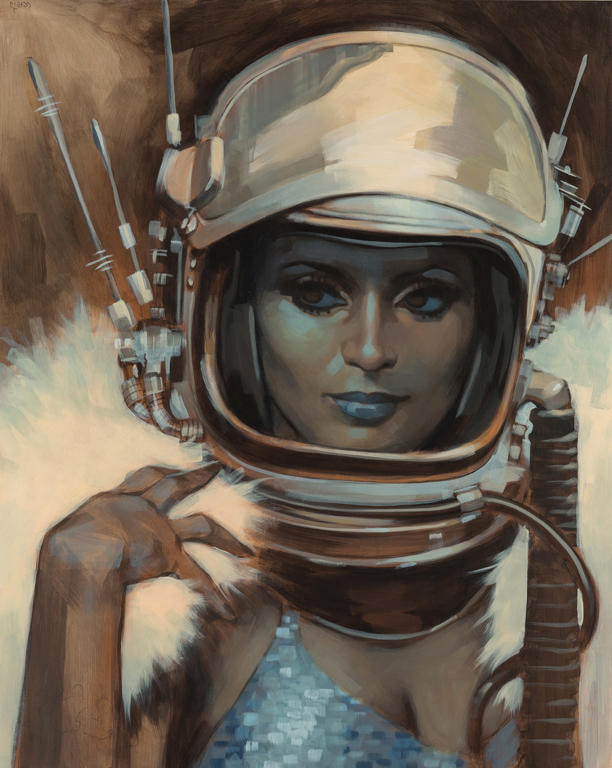 In your latest exhibit, Invisible World, the woman in the space outfit in Eveningwear (image above) seems to be the only character with any hint of a smile. What makes her the outlier?
Can't have everything the same. Just like adding the peppering of men here and there… besides, I liked her Mona Lisa smile and couldn't resist capturing its allure.
Detroit, and Michigan in general, suffered tough times this past decade or so. Do the images and emotions you see around the state shape the settings in your art?  
No, not much, but I am inspired by the city physically. I like its overcast skies and the texture of its buildings, its palette, its grit. I never realized how much a surrounding could affect your art. At one of my first shows in Los Angeles, a patron came up to me and asked if I was from the midwest. They said they could tell by the palette I use in my work.
You have expressed a dislike for U.S. military interventions. Do your post-apocalyptic pieces ever imagine an America that got hit back hard?
Actually, I'm very anti-war, and that's why in part there are so many bombs in my work. It's like we're in love with war. My apocalyptic images represent the world… not necessarily any place in particular.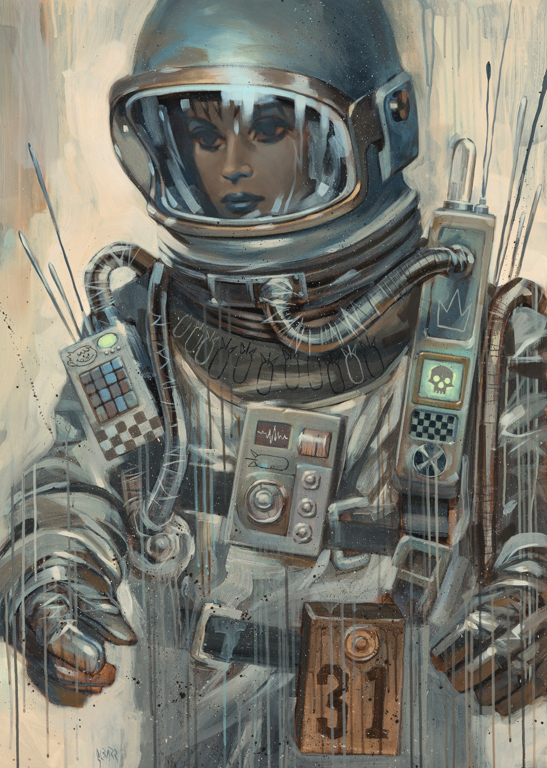 Do you typically prefer to work on wood panel rather than canvas, and what aesthetic effect does the texture of the surface provide?
When working on wood panel or found wood where the surface is damaged or has imperfections, it's all great. The more imperfections the better. Painting is all about mistakes and experimentation. With these surfaces you never know what will happen. But it's usually for the best. Canvas has a "regular" surface and has a bounce to it when your brush hits it.
I paint very aggressively, and wood doesn't have that "give" to it.
As a tween, you used to draw your classmates' favorite bands on shirts. What were some of the bands you illustrated, and any particular design you recall as being one of your favorites? Or one you couldn't believe a person requested?
Mostly David Bowie, Kiss, Rolling Stones, Aerosmith… and then punk happened, and I was grew up, never did anything after that.
Detroit is famous music city, from MC5 and techno to Eminem and Motown, among many others. What role did music play in your life growing up and do you feel it influenced your artistic sensibilities?
Music is a very important part of my life, and I would like to think that people can get that vibe through my work. I feel it's very soulful and has a deep dramatic aesthetic. At least I hope that's what people take away from the shows.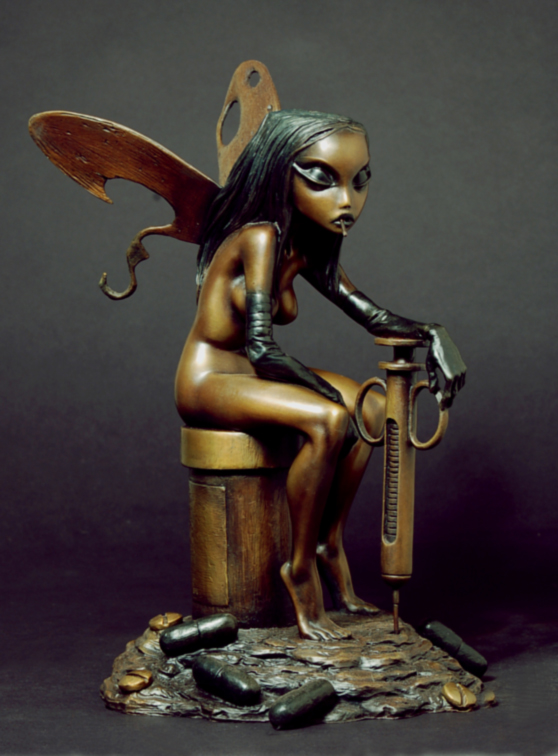 One of your older pieces, Happiness (image above) shows a woman with pills, a joint and a needle clearly affected in negative ways. You have said in the past that you lost friends to drug abuse. Based on the negative experience you've seen involving drugs, do you think you would vote for or against cannabis legalization if it got on the ballot in Michigan in 2018 or 2020?
I'm for the legalization of marijuana, and why not? Alcohol is far worse and far deadlier. Actually, cannabis isn't deadly at all. Anyway, the Happiness painting and bronze is more of a oxymoron or a satirical question. Was she happy? Was she content? Was she miserable? Is she merely the spirit of euphoria? A symbolic sprite with wings? That piece was an open-ended narration and people get out of it what they will. You looked at it as a negative. Interesting.
Originally featured on PRØHBTD