Kumkum Fernando Turns Found Materials Into Mystical Sculptures
Check his latest online exhibition, "Temples, Gods and Robots."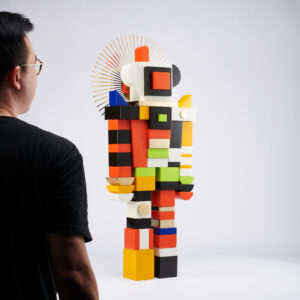 Kumkum Fernando is a Sri Lanka-born, Vietnam-based artist with a penchant for breathing life back into found objects. Using quite possibly anything he discovers in the open, the Design by Reborn founder is set to showcase a new online solo exhibition of work at Jonathan LeVine Projects in New Jersey.
"Temples, Gods and Robots" feature nine new intergalactic sculptures that draw reference to designs from Asian tribes and minorities — from jewelry, rugs and masks, to ornate doors. These traditional objects, such as window patterns from ancient temples found in Tibet and Southeast Asia, are transformed and given new life as cosmic monoliths. The characters that emerge are equal parts action figures and idols and are lovingly created with exceptional craftsmanship.
The series is part of Fernando's ongoing project, Reborn, which re-imagines found materials into contemporary art objects. Each sculpture takes months to construct — from early illustrations which are then rendered into individual building blocks, to a labor-intensive sanding process, followed by silk-screen designs that are added to bring vibrancy and finished with high-gloss lacquer, using traditional Vietnamese techniques.
Fernando also injects a bit of storytelling by adding a lyrical tale to each limited-edition sculpture. "Temples, Gods and Robots" will be virtually on view at Jonathan LeVine Projects from February 16 to March 20, 2022.
Source: HypeArt