Europe's first underwater museum opens off Lanzarote
Almost three years in the making, Museo Atlántico, off the south coast of Lanzarote, in the Bahía de Las Coloradas, officially 'opens' on 10 January. The project consists of 12 installations and more than 300 life-size human figures, created by British sculptor Jason deCaires Taylor, 12 to 14 metres under water. This work, called Portal, forms part of an underwater botanical garden. The mirror reflects the moving surface of the ocean and is elevated on a series of supports which contain small compartments and "living stations" designed to attract octopus, sea urchins and juvenile fish.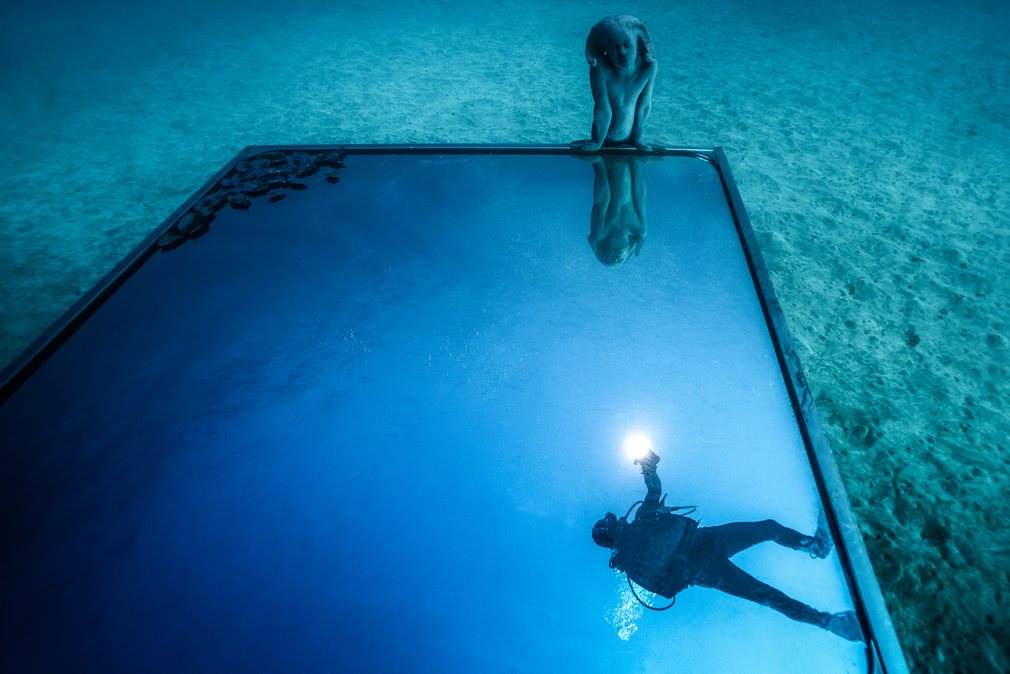 The collection of sculptures is designed to provoke environmental awareness and social change, with each piece creating an artificial reef that will promote marine life, and can be 'toured' by scuba divers, with a start and an end. It can be accessed by scuba divers (€12pp) and snorkellers (€8pp) with departures from the Marina Rubicón port located in the south of the island. See cactlanzarote.com for details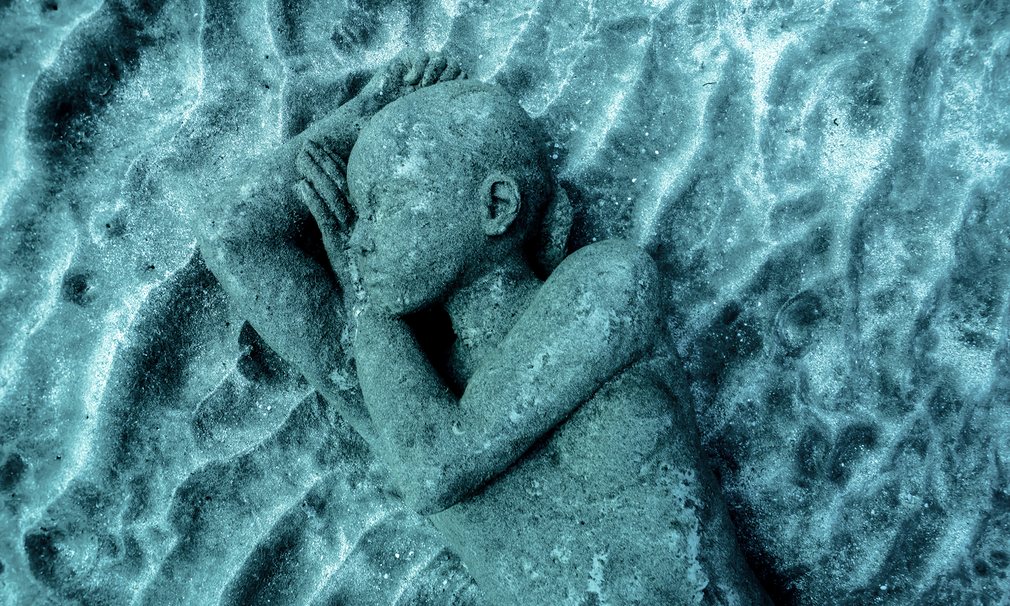 The new installations include 35 figures walking towards a gateway in a 30-metre-long, 100-tonne wall. The work, called Crossing the Rubicon, is 'intended to be a monument to absurdity, a dysfunctional barrier in the middle of a vast fluid, three-dimensional space, which can be bypassed in any direction,' says deCaires Taylor. The work "aims to mark 2017 as a pivotal moment, a line in the sand and reminder that our world's oceans and climate are changing and we need to take urgent action before its too late."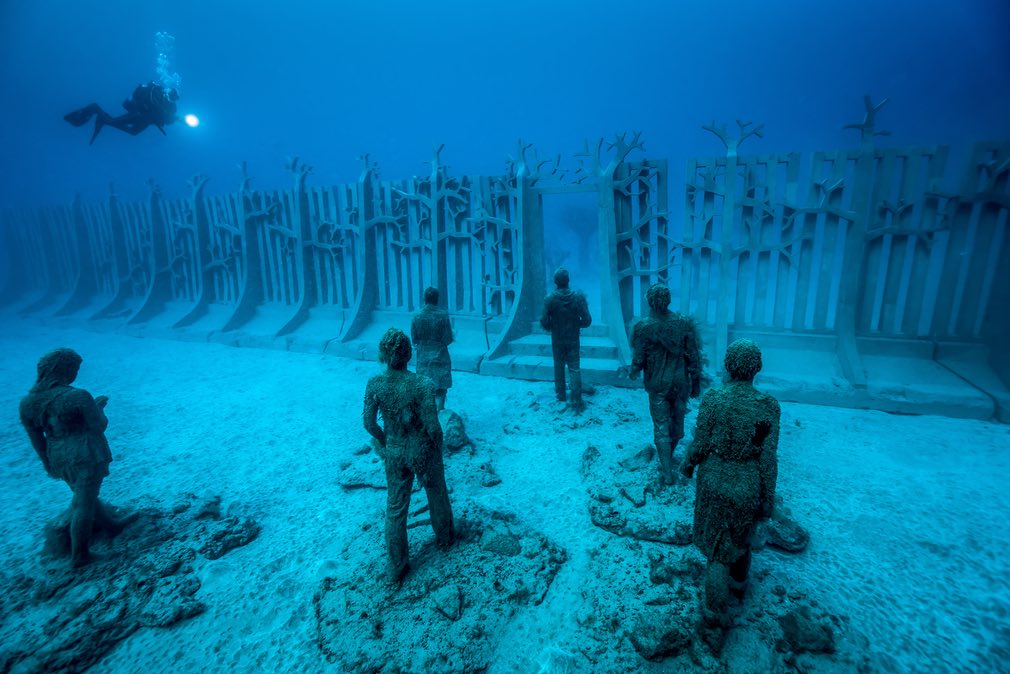 Particularly poignant in the current political climate the artist says the wall sculpture emphasises that 'notions of ownership and territories are irrelevant to the natural world. In times of increasing patriotism and protectionism the wall aims to remind us that we cannot segregate our oceans, air, climate or wildlife as we do our land and possessions. We forget we are all an integral part of a living system at our peril.'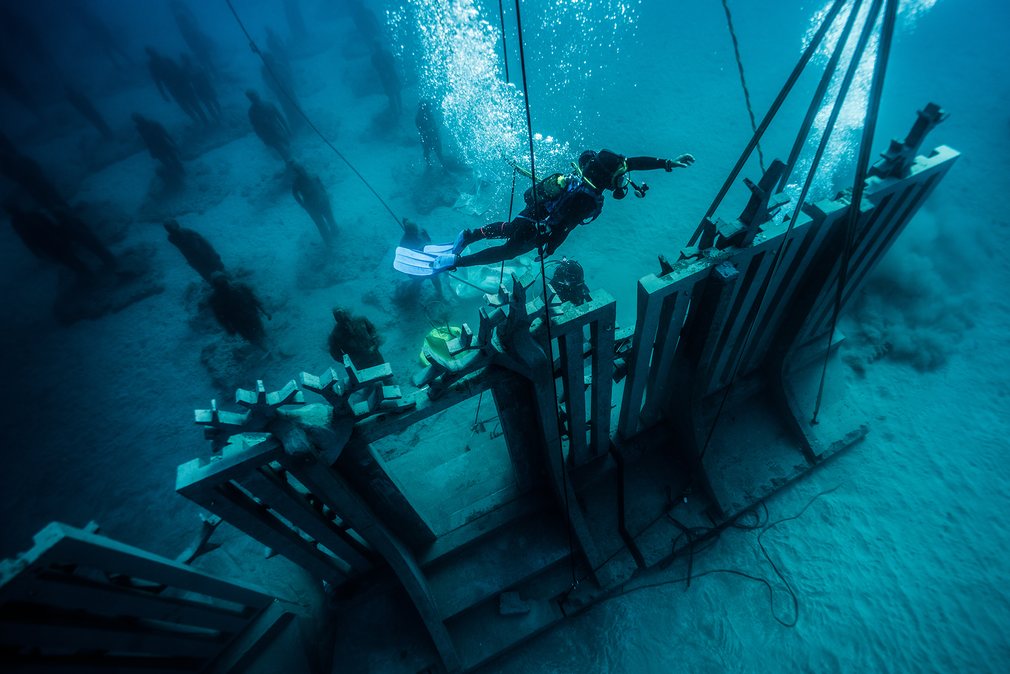 A local fisherman was cast to create the figure in this work, the Immortal Pyre, which depicts a funeral pyre. While the sculpture represents the departure of life, the concrete sticks that make up the firewood have been designed as a habitat for marine life.
Creating the underwater artworks was a monumental task, involving a team of scuba divers. Local residents and visitors were also involved in its creation, by modelling for life casts.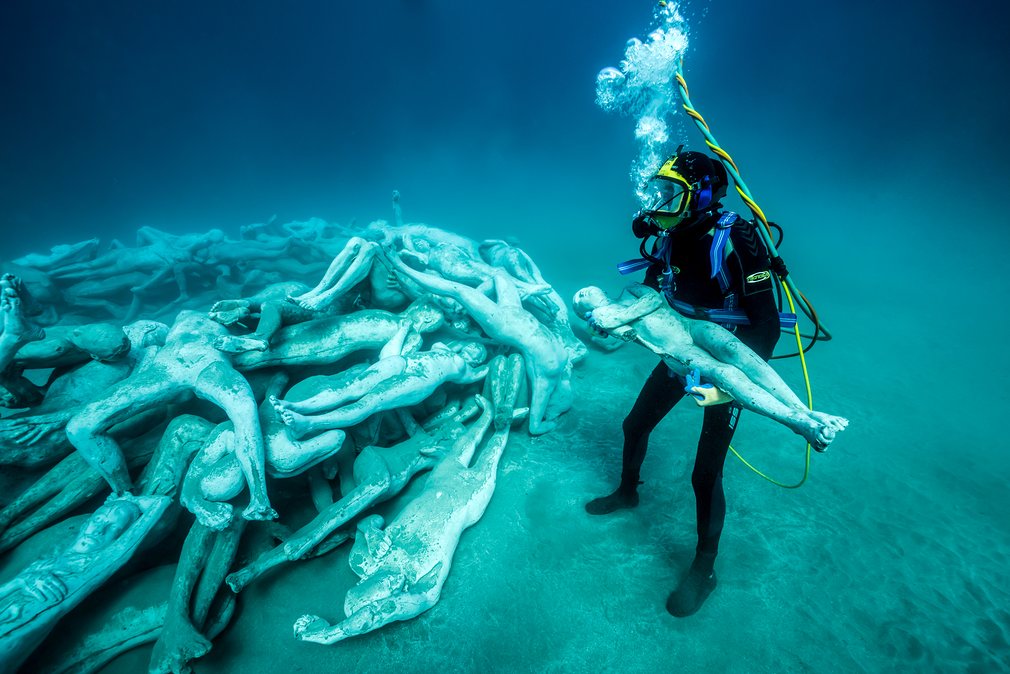 Deregulated is a work that features a children's playground being enjoyed by men in suits. The see-saw references an oil pump, a commentary on the arrogance of the corporate world in relation to the natural one. A swing and play dolphin are part of the work.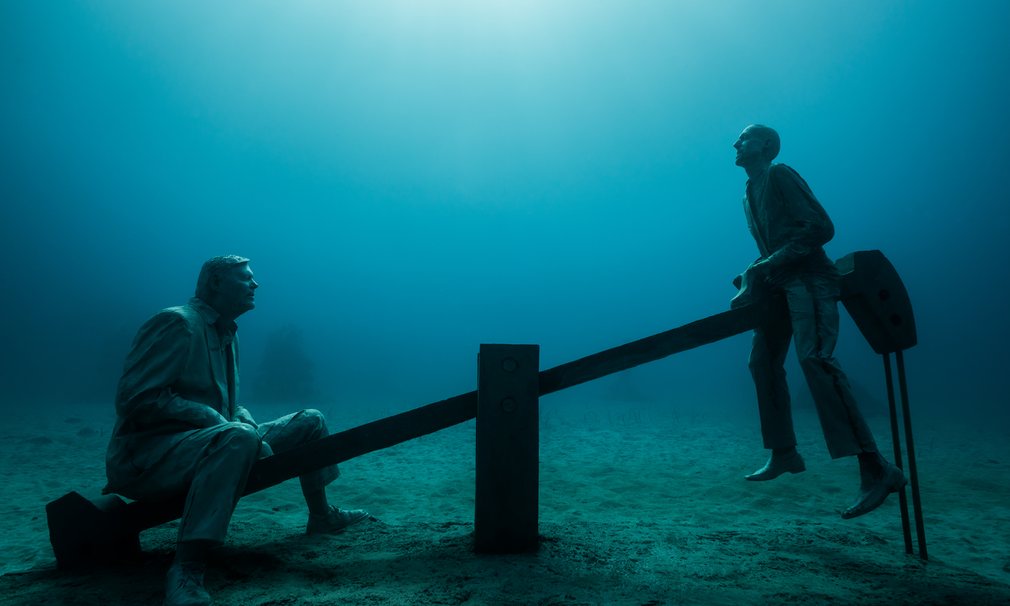 Designed to create a large-scale artificial reef, the first works installed in February 2016 have already seen an increase of over 200% in marine biomass and are now frequented by rare angel sharks, schools of barracudas and sardines, octopus, marine sponges and the occasional butterfly ray. It is hoped that the project will be a boost for the local economy, creating revenue for diving and boat operators.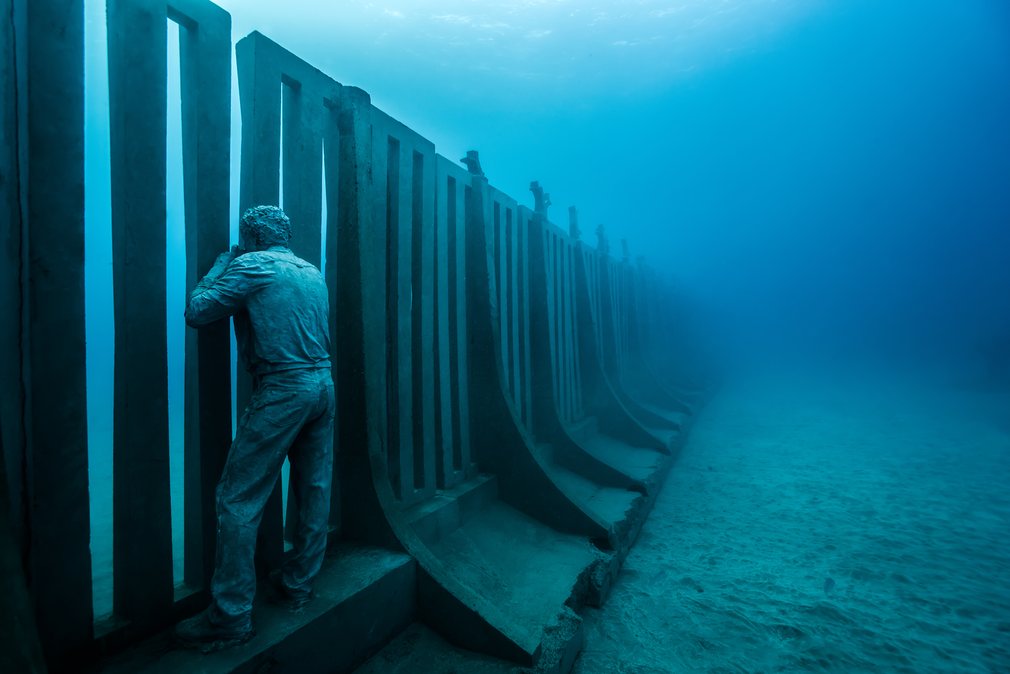 The Human Gyre is the final installation in the tour, a vast circle of over 200 life-size figurative works consisting of various models of all ages and from all walks of life.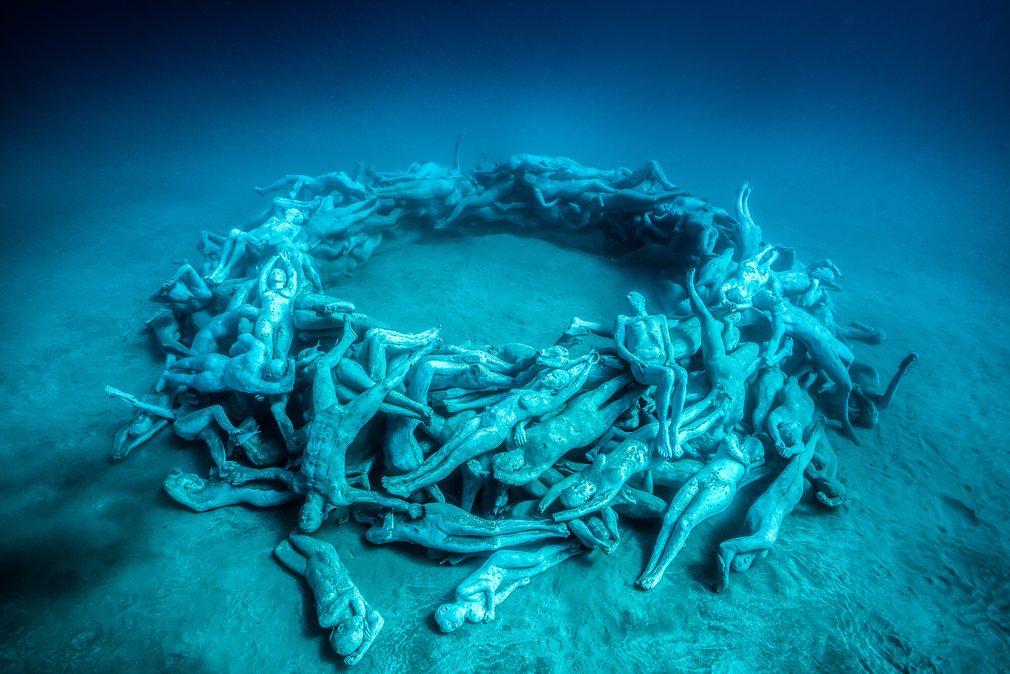 Originally featured on The Guardian