A CHAT WITH KAI & SUNNY BEFORE THEIR NEW SHOW "TWISTS AND TURNS"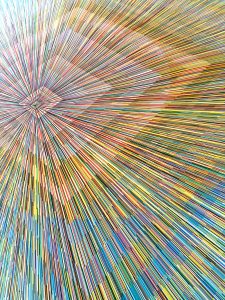 Kai & Sunny have been working on Twists & Turns, an exhibition of new work for their second solo show at Jonathan Levine Projects. This new body of work by the UK-based duo showcases their uniquely distinguishable compositions of archival ballpoint pen on paper, as well as acrylic paintings on primed aluminum panel. Twists & Turns is comprised of two narratives; fluid deconstructed landscapes representing a calm isolation through reflection and contemplation, and hard-edged geometrics exuding energy and optimism. These parallel concepts are characterized by the duo's hallmark precision line work, a slow methodic process of building individual thin lines upon each other creating tense kinetic compositions while a certain fragility remains. The works explores the relationship between color, shape and illusion. How the thin lines can change your perception of the shape 'twisting and turning' you confusing the foreground and background and inviting you to float in-between the two. The tidal-like waves and intense sunbursts hint at environmental uncertainty but always hopeful of a brighter future through change.
In anticipation of the new show, we caught up with the illustrious duo who we've had the pleasure of following for over a decade. Read the full interview below!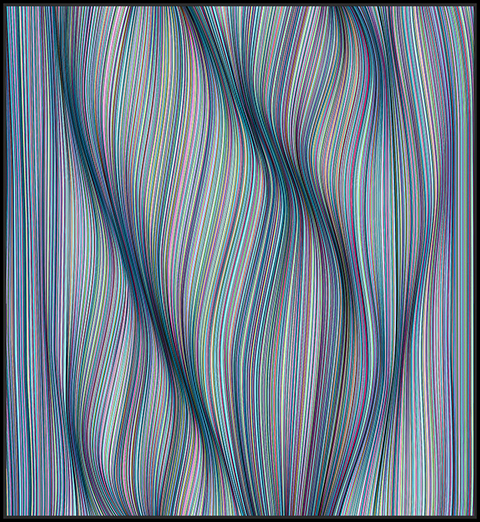 What's changed or expanded since your last show at Jonathan Levine Gallery, and what can we expect to see at the new show?
Our first show with Jonathan LeVine was Lots Of Bits Of Star in 2014 and was our most ambitious at that point. The show was mainly large scale black and white hand finished silkscreen on paper and focused more literally on nature elements. We had a couple of small pen originals and that was the first time we had shown these. Since that point we've been developing our technique and becoming much more ambitious with scale, color, detail, and subject matter in both pen and paint. It's taken us a few years through testing and learning and we are now in a confident place with both techniques. The new body of work showcases archival ballpoint pen on paper, as well as acrylic on primed aluminum panel. Twists & Turns is comprised of two narratives; fluid deconstructed landscapes representing a calm isolation and hard-edged geometrics exuding energy and optimism. The works explores the relationship between color, shape and illusion.
How does the collaboration work with the detailed line paintings?
Sunny and I have worked together exclusively for over 15 years. During that period we have developed our style, refining and evolving it over time as our tastes and interests have changed. Our detailed line paintings and pen pieces are developed together with sketches which are then refined and added to. Both mediums are then painted and drawn with the help of masks to guide us. For the current show, Twists and Turns, Sunny worked on the final production stage of the pen pieces and I worked on the final production stage of the paintings. We constantly feed off each other during the process.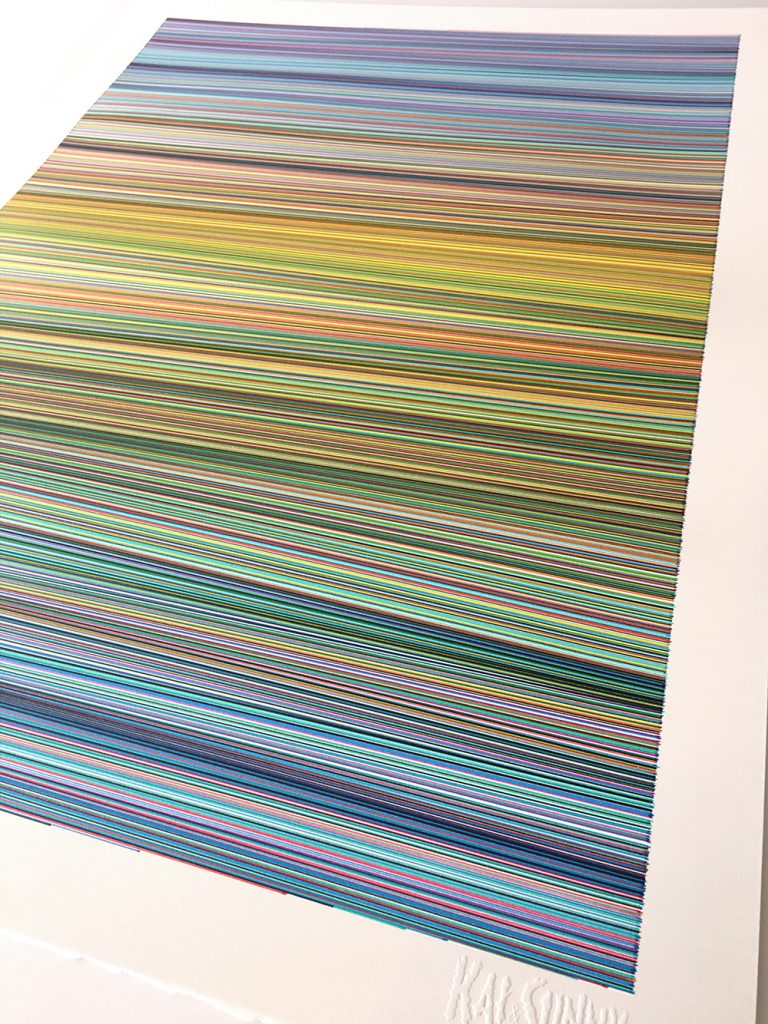 Why is metal your chosen surface for painting recently?
The paintings are on aluminium panels. The panels have gesso applied and sanded back a number of times. This gives us a stable smooth surface to work with. The lines are very thin and often 1 to 2mm thick. We work on an individual color at a time building up the painting one line at a time. Currently, through testing, this surface is working well for us.
What do you like about showing in the states?
We love coming to the (United) States they really get what we do and seem happy to buy into our work. We send lots of work to the US. I would say it's our second home and we go there once or twice a year for shows or to see family.
Is there a repeating inside joke or movie quote between you guys that comes up a lot while working?
There are many jokes on how intense these pieces get. Thousands of lines drawn/painted repetitively can send you a bit crazy some times. 'I'm as mad as hell, and I'm not going to take this anymore' from Network has been said a few times : ) They're also extremely calming and therapeutic things to work on and can transcend you into a hypnotic state.
Does your collaboration most often occur when you're both physically in the same place at the same time?
We often work in the same place and constantly discuss ideas and approach. We can also work remotely. This can be beneficial at times when painting or working on the pen pieces as it demands total concentration and focus.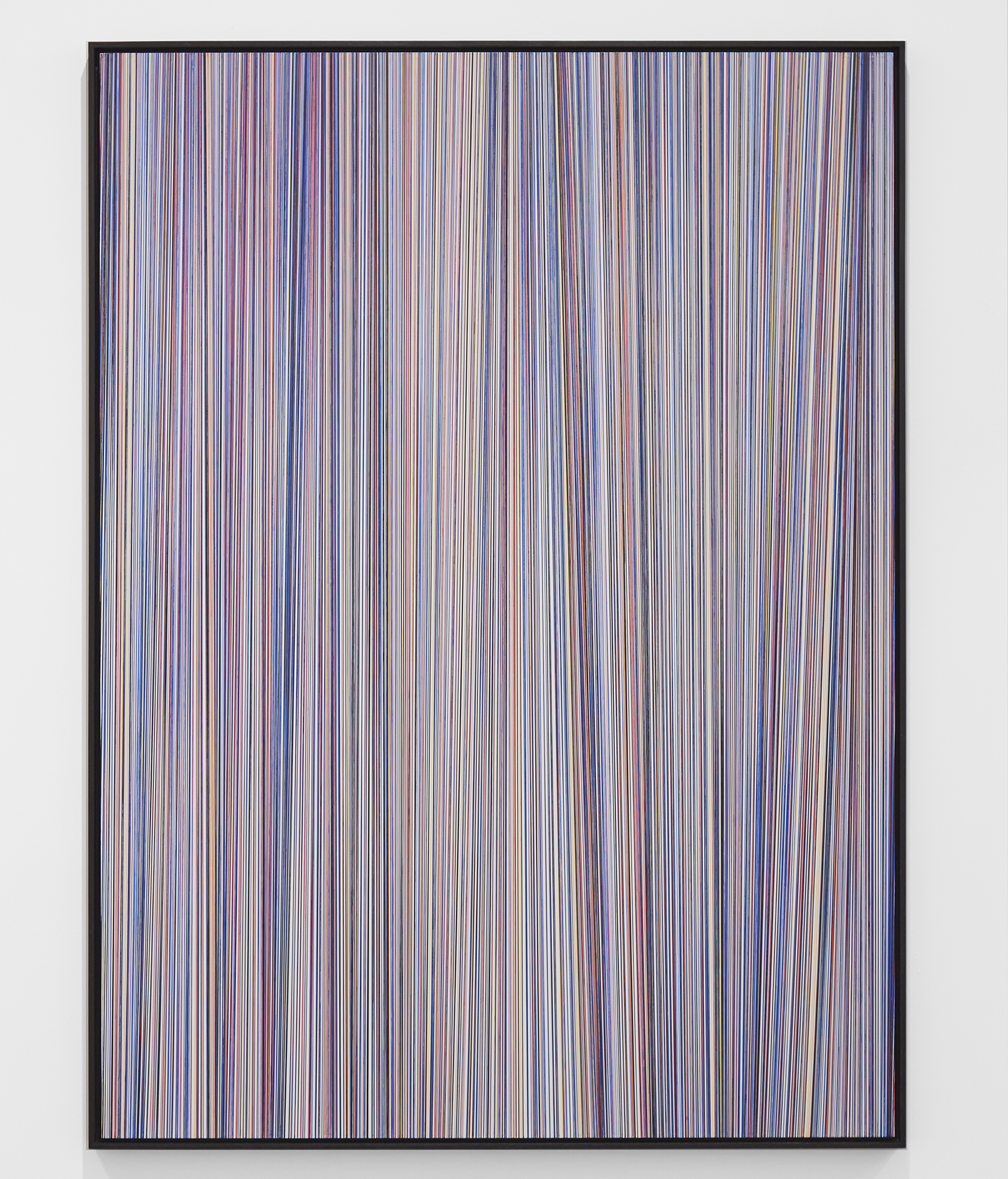 What are your favorite outfits and albums these days?
I was just given a 1975, M65 jacket that has the original bronze zips and original detailing. That's pretty cool. I've been listening to Nick Drake's Pink Moon a lot on the last painting. We called it 'Horizon Rise'. The painting before LCD Soundsystem, American Dream record, a bit of CAN and some Future Islands, A Tribe Called Quest, Elliot Smith, Young Fathers. Public Enemy's It Takes A Nation Of Millions To Hold Us Back, which in my opinion is probably the greatest hip hop record of all time.
You are professional collaborators, working with each other and others. Why do you think you're drawn towards collaboration? It seems fair to assume that you also make things separately?
I don't really think of Sunny and I collaborating. We've worked together for many years and we've evolved everything together. Our understanding for the work we create and how we got here. It's more of an intense Twisting and Turning partnership than collaborating. We don't work outside of 'Kai and Sunny' we put all our time and resources into the partnership. We are happy to collaborate with others under 'Kai and Sunny,' and we enjoy the process. We've collaborated with Element Skateboards on a series of limited decks for this show and it worked really well. I think if the collaboration is right and there's history then interesting things can happen.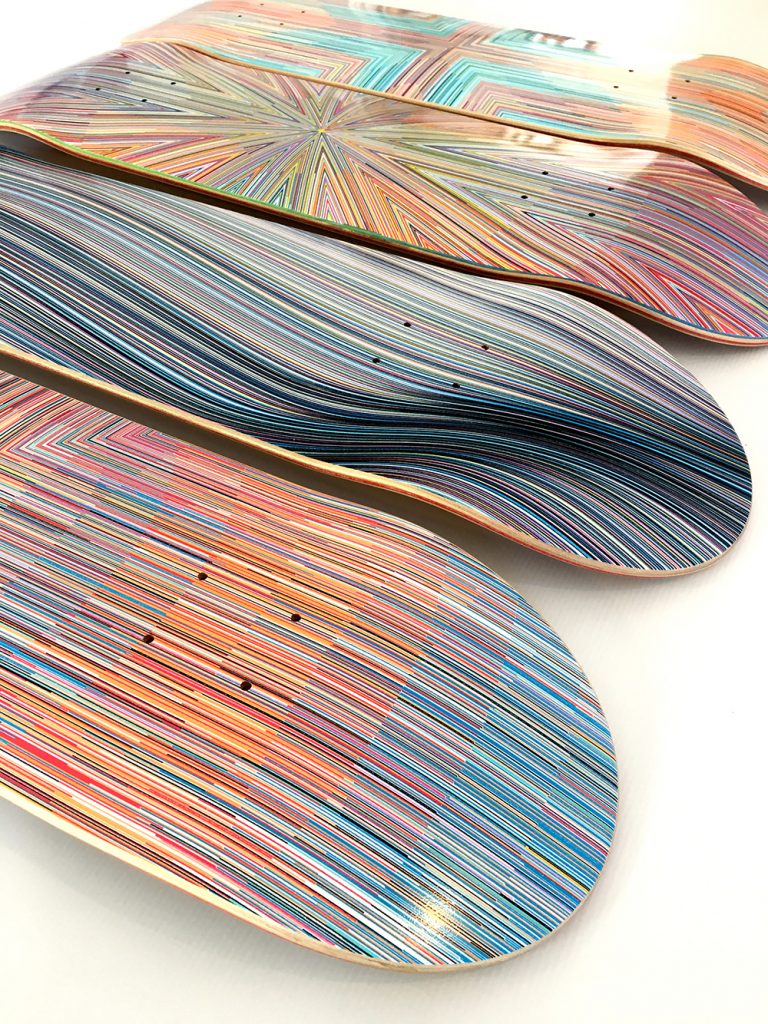 What have been your most pivotal moments of working together? When have the biggest changes happened?
When we first started working together in early 2000's we ran a small fashion label 'Call Of The Wild'. This was a great starting point for us and gave us a platform to be creative. We had a small studio in Shoreditch in London. It was a fun time and a lot of creative energy around that part of London. The label sold internationally at places like Colette, Liberty, Selfridges etc. Collaborating with David Mitchell author of Cloud Atlas was great for us and opened up our work to a larger audience. D-face taking a chance on us and giving us our first solo show in 2007 at his gallery 'Stolen Space' was a pivotal moment and we are forever grateful. Collaborating with Shepard Fairey was another pivotal moment and gave us the confidence to keep pushing and evolving our work.
Are there any current or past artists that you feel your work is in dialogue with?
We enjoy many artists work from all different areas. We were really pleased to see Haroshi's London show recently and was special to show our work along side him. Seeing one of Sam Friedman's paintings at Pulse in Miami was inspiring. Revok is an artist we really admire and love how he keeps pushing. Felipe Pantone would be another. His output is incredible. Loving the work of Josh Sperling. The list could go on. I feel our work sits on its own a bit but maybe a little, one removed dialogue with Pantone. We admire the work of Ian Davenport and his dripping lines are insane. The work of Bridget Riley has clearly had an impact on us.
What projects are up next after the Twists and Turns show?
After the Twists and Turns show we have a solo back with our home gallery in London at Stolen Space Gallery in November 2018.
Orginally featured on Juxtapoz