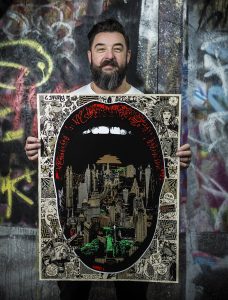 Prefab77 has a reputation for creating an all out assault of patterns and textures in his prints – from hand painted backgrounds to stencil and graffiti work, he weaves a luxurious mixture of acrylic, spraypaint, wheatpaste and foil across a range of high quality papers and reclaimed substrates.  For his upcoming release, he created a limited edition run of his iconic painting, Lick New York, in 5 different versions!  Available for purchase on Monday, December 18th, at 9 am on our online shop.
The artist began Lick New York by hand painting the background and base layers, highlighting specific areas with acrylic paint and gold metallic ink to denote points of interest and mimic the variegated NYC skyline.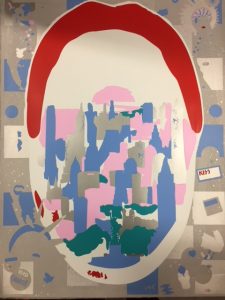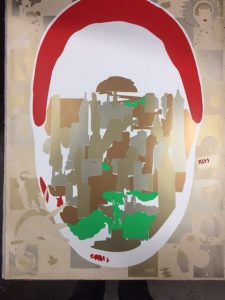 He then used an ultra violet black ink to add his detailed mash-up of figures and symbols. Prefab77 describes, "The imagery in Lick New York is a hard edged, stripped down, ripped and torn cheeky montage of popular culture, politics and music reflecting the spirit of the great cities of the world but focusing on the greatest of them all, New York City."
The process of creating this ambitious required an element of experimentation that resulted in a series of smaller, intrinsic runs aside from the main edition, which are special in their rarity and include extra layers.
Lick New York will be available for purchase on Monday, December 18th, at 9 am on our online shop.