THE ART OF CARLOS RAMIREZ
Marsea Goldberg
October 9, 2017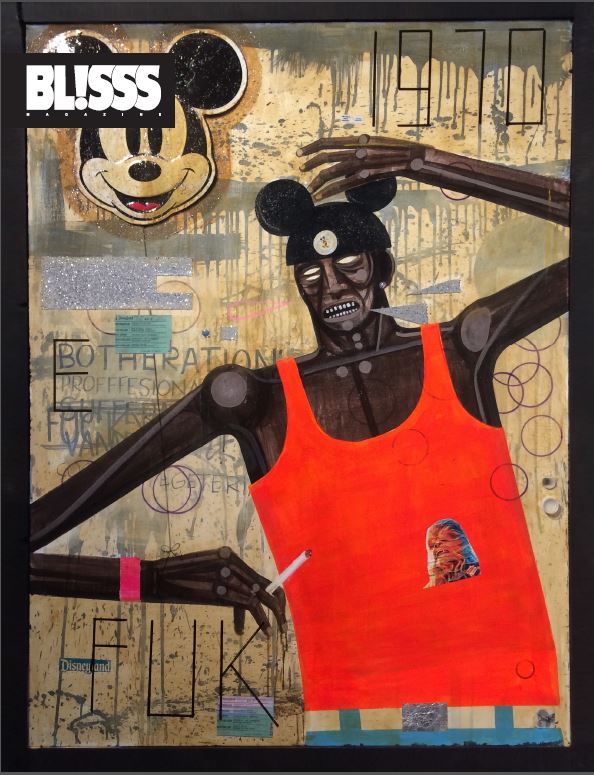 This month we have the pleasure of featuring Coachella-based artist Carlos Ramirez, formerly one half of the art duo The Date Farmers. Ramirez's new body of work is stunningly multidimensional, integrating Mexican iconography with embedded catholic symbolism, and it is peppered with political and pop culture innuendos. Just as multi-faceted as the subject matter, the body of work is structurally textured as well. Ramirez employs various house paints and acrylic in his work, as well as found objects from the "City of Eternal Sunshine." We asked good friend Marsea Goldberg of New Image Art Gallery to ask Carlos a couple of questions about his art, an upcoming film project and the Coachella Valley. Many thanks to Marsea and Carlos for taking the time and energy for such a lovely interview.
What is your contribution to this film/art project? What are you doing on the project and how did this project that combines art and film come about?
Aside from the aesthetics and certain elements, I also helped compose and conceptualize part of the narrative and certain aspects of the project that Max Joseph initially envisioned.
When will it be coming out and where? I heard Marfa, Texas, Los Angeles, or will it be both? Is that still happening?
Apart from being cohost on Catfish, Max Joseph is a dope-ass filmmaker that has done films, shorts and tons of other work that has touched, explored, questioned and brought to the forefront a lot of today's abrasive and sensitive issues in an honest and unapologetic way. [He covers] issues that seem to be becoming the norm in today's social climate, which are some of the same issues I explore in my work. We're both using a similar formula and approach, so cohesion of the two was a no-brainer and he asked me if I'd be down to collaborate on a project with him.
I've never seen anything done quite like this and on this scale, so we've been working on this project figuring out the logistics as we go, as there are no previous reference points. But I think I can safely say it's close to completion, so very soon. And yes, Marfa and Los Angeles are both being considered.
How has your work grown through the years as part of the Date Farmers?
As part of my continued journey and part of the former collaborative The Date Farmers, my work and vision have grown immensely, and on so many different levels. Having someone to harmonize and resound ideas with can be a very reinforcing thing to an artist, especially on self-doubting, fucked-up days.
How is your art different now that you are painting separately?
It's different in that I've started to explore and venture into that whole idea of making it more personal and intimate in the sense that all risk or reward, curse or blessing, is mine, and in whatever the subject matter may be, as I keep developing and evolving the subject matter or message.
What are your favorite subjects to paint?
I paint and draw shit that I like and that which intrigues me, so most are my favorite, but I tend to lean towards animals or clowns; they seem to offer innocence and escape in today's world, along with humor and emotion, and they point back to the natural world.
How have our current political climate, racism, immigration and the cancelling of D.A.C.A. impacted people in Coachella, you, and how does it play out in your new artwork?
Man, where can I start? Funny how we say "climate." And if that's the case then "hate" seems to be the wind right now that is blowing the sand off and revealing these issues that have never really gone anywhere. They have been right below the surface all along. Immigration and racism are nothing new, especially to those who have been in the social trenches or on the political frontlines the whole time.
The cancellation of D.A.C.A., that was deservedly earned and fought for by young people that only want the best for themselves and this country, stems from what can only be a negative and dark place. And it has affected the Coachella Valley in the same negative way it has affected every other city in the U.S.A. – creating fear, hate and social instabilities and nothing productive.
I think today's political climate has gotten to an obvious point, a point with no in-betweens, creating separation and the fraying of the American people and forcing the choosing of certain sides, all of which is manifesting in not only my work, but in force among artist in the art world.
What do you have planned for your future creatively? Any large projects?
I hope to and have definitely been exploring into larger public works and installations, the last being a 30-foot sculptural piece I designed after my nephew asked me to draw him for "Coachella." I titled the piece "Sneaking Into The Show," and it's of a shirtless cholo, his lowrider bike and his girlfriend, which ended up being more of a protest piece. And I am already in planning for future public projects.
Your work has an amazing color vibe – where do you think that stems from?
Apart from certain color combinations being more fulfilling to me, I have always been drawn to the use of color in most Third World countries, where the population seems to lean more heavily on imagery and the use of color due to high rates of illiteracy.
How have Coachella and the nearby desert communities changed since "Coachella," and how has it impacted the arts?
Nothing has changed for the surrounding migrant or working-class communities surrounding Coachella, but the amount of traffic has. Most of the art installations brought into "Coachella" aren't local, so the impact it has had on the local art scene is almost none.
Are you still treasure hunting in the dessert for collage materials?
I am still looking in the desert among other places for material, and supply is in abundance since I mostly use discarded materials.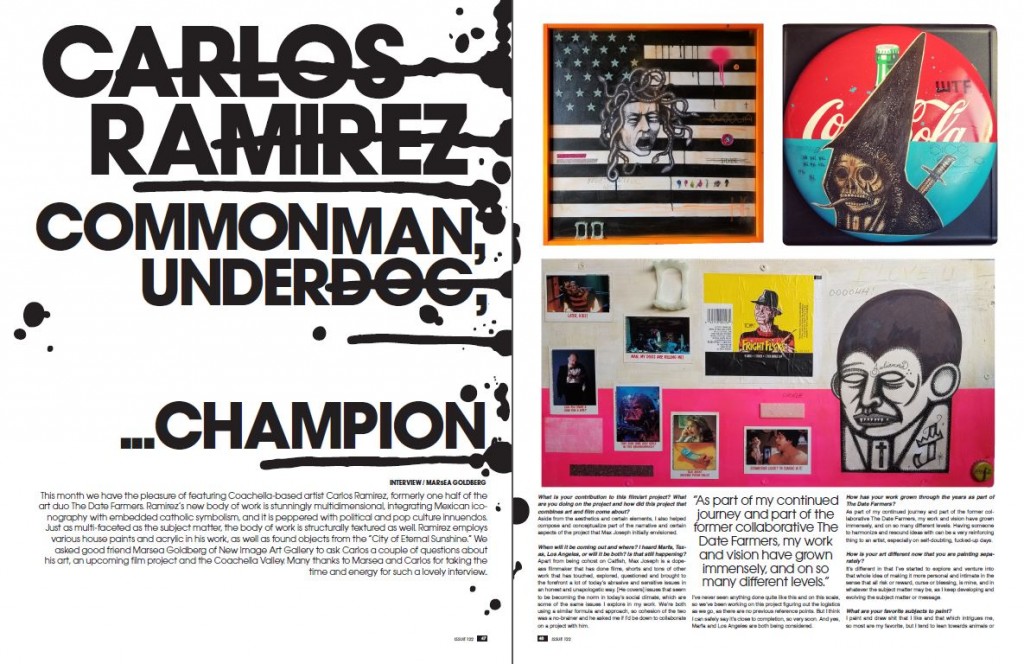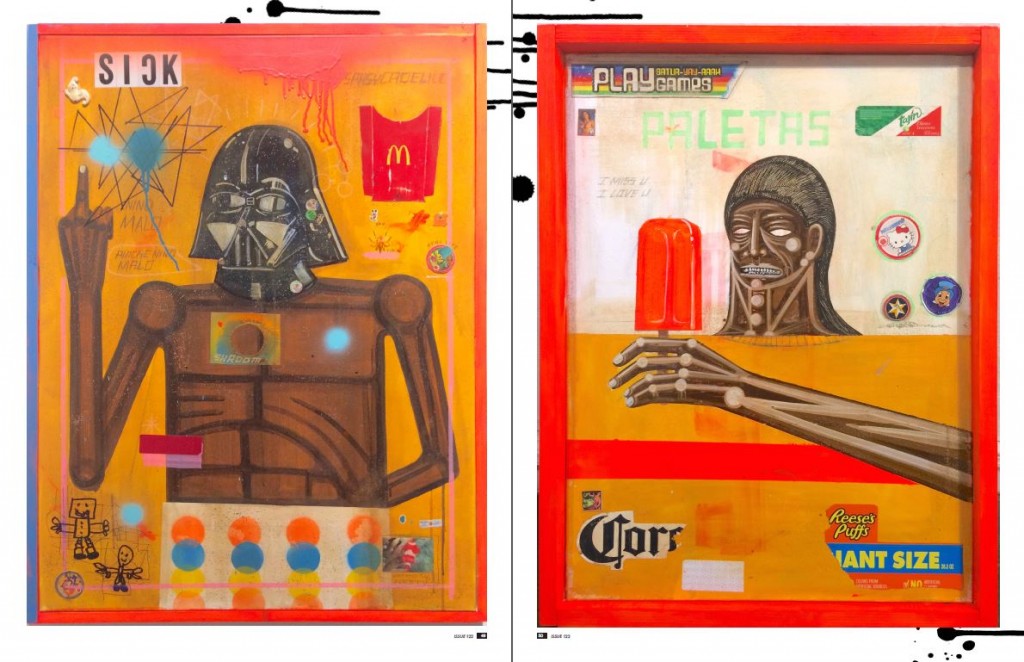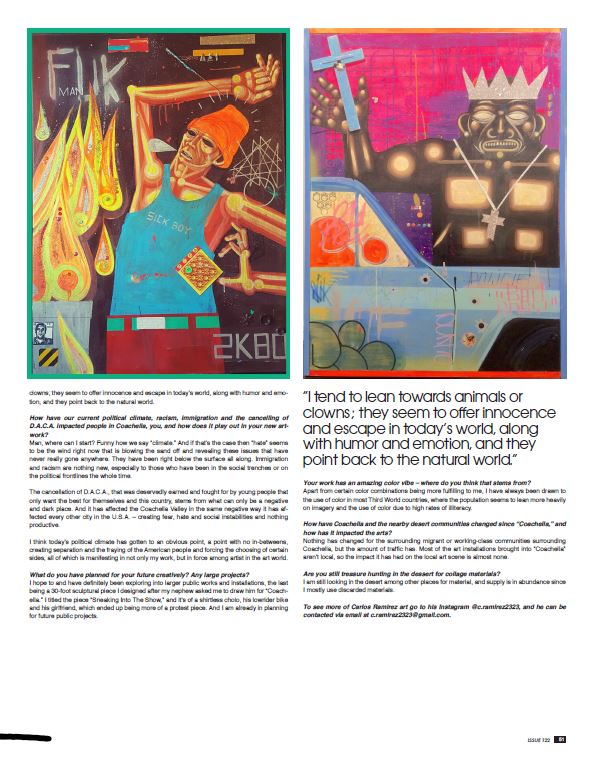 Originally featured on BL!SS Magazine